Barrel-Aged Cocktail Box
$60.00
The four cornerstones of mixology, aged in oak barrels, for an even more harmonious flavour profile, with a softer, more rounded alcohol kick, enhanced by the vanilla, caramel and spicy notes of wood. A mixology trend for true connoisseurs and, until recently, a select few international cocktail bars.
Key Ingredients:
Barrel-Aged Negroni

|
Barrel-Aged Manhattan

|
Barrel-Aged Old Fashioned

|
Barrel-Aged Boulevardier
BARREL-AGED NEGRONI
(Tanqueray no. Ten | Campari | Cocchi Storico Vermouth di Torino | Angostura Aromatic Bitters; 100 ML, 23.1%)

Like fine wines and spirits, this cocktail is barrel aged until the blend is perfectly enhanced by the warm, mellow, fruity notes that only a long time spent in contact with wood can provide. In this limited edition Negroni, the typical sweetness of red vermouth, the tartness of bitters and the powerful finish of gin are complemented by intense vanilla and woody aromas that add body and structure.

BARREL-AGED MANHATTAN
(Bulleit Bourbon | Cocchi Storico Vermouth di Torino | Angostura Aromatic Bitters; 100 ML, 24.3%)

The Manhattan is one of the most famous cocktails in the world. We've read about it in books, spotted it in films and seen the person sitting opposite us sipping it on a first date. It appears on the counters of the best cocktail bars when it's time for an aperitif at sundown and the sunset is echoed in its amazing colour, the result of a perfect mix of Bulleit Bourbon and Cocchi Vermouth. Ageing in oak barrels gives a final touch of colour and a truly unique flavour.

BARREL-AGED OLD FASHIONED
(Bulleit Bourbon | Toschi Sugar Syrup| Angostura Aromatic Bitters| Angostura Orange Bitter; 100 ML, 29.3%VOL.)

The Old Fashioned is a whiskey lover's cocktail and has a long and fascinating history. It is one of the IBA Unforgettables and was created in New York in the late 19th century. It has a minimalist appearance and a unique elegance. Our oak barrel-aged Old Fashioned is a masterpiece with an intense flavour, enhanced by the balsamic notes of Angostura against a backdrop of spicy Bulleit Bourbon.
BARREL-AGED BOULEVARDIER
(Bulleit Bourbon | Cocchi Storico Vermouth di Torino | Campari | Angostura Aromatic Bitters; 100 ML, 22.5%VOL.)
Barrel aging is a process that requires patience and attention so that the cocktail can come out more harmonious, softened in the alcoholic tip and softened by the woody flavours of vanilla and caramel. In our barrel-aged Boulevardier the bitter note in the bitter balances the sweetness of the Cocchi Vermouth - and it is precisely this balance that gives space to the intense taste of the rocky and peaty Bourbon Bulleit.

NIO Cocktails are made with the finest spirits and liqueurs, with no preservatives, additives or chemical agents.
Hand-mixed in Italy with the best spirits from all over the world
Perfect to serve at Christmas or New Year's parties, our Apple Rum Punch Cocktail is intensely flavourful and full of warming festive spices. A delicious combination of apple cider Calvados, dark rum, red vermouth, and sour apple liqueur, this cocktail will become your ultimate winter cocktail sour, and will certainly be a hit amongst your guests. Expertly mixed in Milan, Italy.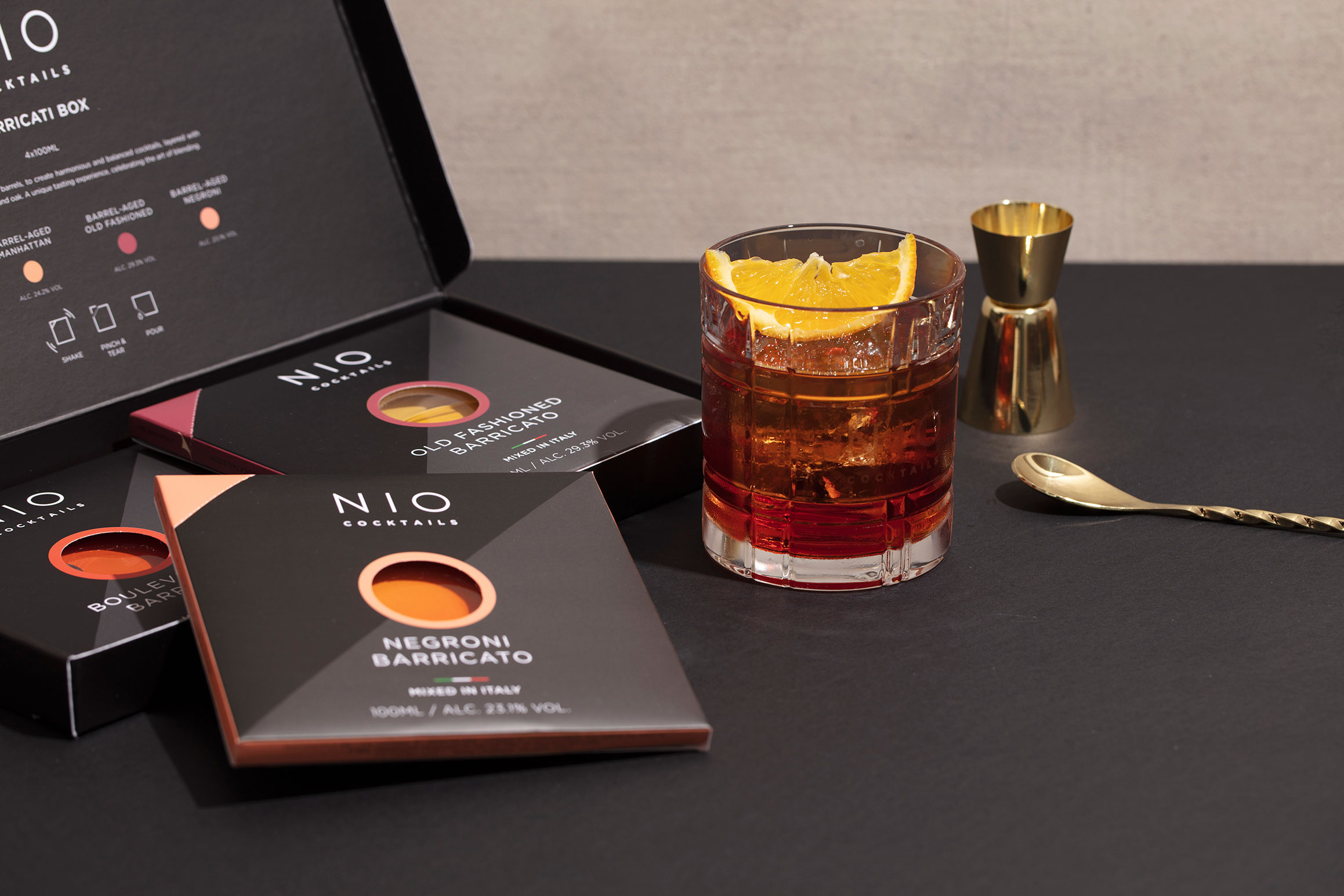 The elegance of oak barrel ageing. What is a barrel-aged cocktail?
"The elegance of oak barrel ageing. What is a barrel-aged cocktail? To obtain these extremely elegant, barrel-aged cocktails we usually use very small 2 or 4-litre fine oak barrels, that give a perfectly aged result. The smaller the barrel, the faster it transfers the right amount of tannins (a plant polyphenol mostly concentrated in the bark) to a cocktail, giving it unique flavour elements. The length of time for proper ageing depends on the size of the barrel. Cocktails aged in 1-2 months in a 2-litre barrel will need between 2 to 4 months in a 4-litre barrel or up to a year in a 10-litre barrel. Once the cocktail is properly aged, usually according to the bar-tender's palate, the barrel is completely emptied and filled immediately with a new drink. Unless you want to combine flavour notes, each cocktail needs its own barrel, because the wood is impregnated with flavours that it in turn releases. "